Description
Hayden Zircon Central Vacuum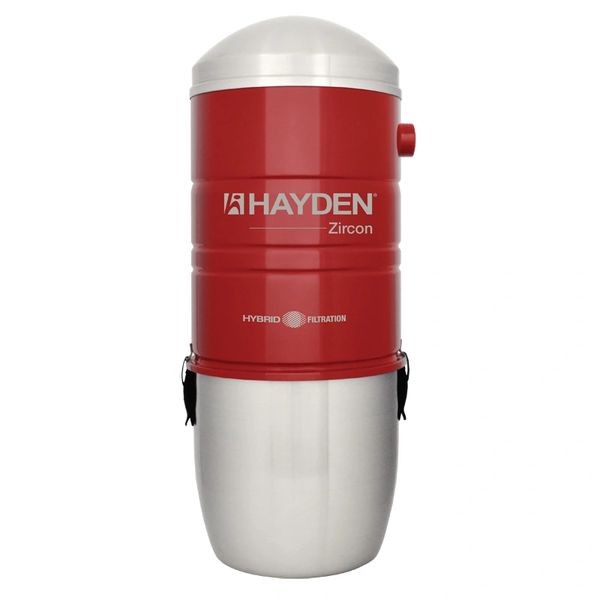 Performance. Strength. Durability.

Hayden introduces a range of products that combine power and strength with a touch of design making each central vacuum a unique model. Hayden offers suitable units for all types of homes and meet the needs of an active lifestyle.
Hayden's Platinum central vacuums provide efficient and quiet motors for maximum power and durability. These units are perfect for cleaning surfaces 3,500-10,000 sq.ft. and offer a competitive 10-year warranty*.
Features:
10 Year Warranty
Up to 3500 sq. ft.
Made in Canada
New model. History of great Hayden performance. This unit provides hybrid filtration: filter or bag, features a steel and brushed aluminum body, and includes a 10-year warranty*. This unit is for a cleaning surface of up to 3500 sq. ft.
Optional paper disposable bag HA-1405
*5 years 100% – 5 years 50%
600 Airwatts.
120″ water lift.
120 volts.
1 turbine per motor.
3.6 gallon bag capacity.
Height: 32″.
Diameter: 12.3″
Cleaning surface: up to 3500 sq. ft.
Technical Data
Zircon
Titanium
Platinum
Airwatts
600 AW
650 AW
655 AW
Water Lift (H2O)
120" · 3048 mm
143" · 3634 mm
157.1" · 3991 mm
Air flow
117 CFM
199 CMH
130 CFM
221 CMH
112 CFM
191 CMH
MAX amps
12 A
15 A
14,6 A
Voltage
120 V
120 V
120 V
Number of motors
1
1
1
Turbines per motor
1
2
3
Bag capacity
16 l · 3.6 gal US
22 l · 5 gal US
22 l · 5 gal US
Canister capacity
19.7 l · 3.8 gal US
19.7 l · 3.8 gal US
19.7 l · 3.8 gal US
Weight
30.8 lb · 14 kg
30.8 lb · 14 kg
31.8 lb · 14.4 kg
Height
32" · 81.2 cm
32" · 81.2 cm
35.3" · 88.9 cm
Diameter
12.3" · 30.4 cm
12.3" · 30.4 cm
12.3" · 30.4 cm
Filtration
Hybrid filtration
Part warranty†
10 years*
Labor warranty†
3 years
Cleaning surface
Up to 3500 sq. ft.
Up to 7000 sq. ft.
Up to 10 000 sq. ft.
Product Code
AHAYDEN1A
AHAYDEN2A