Description
Miele Marin S8590
No Tax (OUTSIDE S.C.) Free Shipping
1# Top Rated Power Team Canister
Flash Sale Take 10% off at check out! List 10% off in note section for extra savings! Credit issued after check out!
Convenience and ease of use is what Miele had in mind when designing the new Marin canister vacuum. The Miele Complete C3 , with a rich Marine Blue color, is one of these new Complete C3 series canister models, complete with many of the Complete C3 Series features that make this wide release of Miele canisters magnificent. This version of the Complete C3 Canister Vacuum System comes with an electric SEB 236 Power Nozzle, designed to handle low, medium as well as thick or high pile carpeting with ease, as well as the deluxe hard wood swivel tool , a tool built specifically to clean beautiful hardwood floors and tiles without damaging them or kicking dust and debris around the room. With Miele's SF-HA50 HEPA Air Clean Filter, a 6 setting suction control panel, 1200 watts of quiet but forceful motor power, and a number of helpful attachment tools, the Miele Complete C3 Canister Vacuum Cleaner Series is proud to call the Marin one of its own!
But, of course, the carpet power nozzle isn't the only important aspect of the Miele Marin vacuum. There are numerous nifty features that are in part responsible for this vacuum's status as one of the best residential canister available on the market today. For example, Miele's GN Dustbags offer a self-closing feature and hygienic seal that traps 4 quarts of dirt and debris. Coupon offer list 10% off in note section of check out and we will credit your card 10% after purchase. Plus Free Carton OF Bags.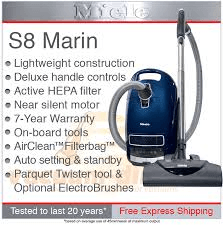 Miele SEB236 Powerbrush
The powerful Miele Complete C3 Marin comes equip with one of the best power nozzles on the market today!
For the highest grade of carpet cleaning with your Miele Marin vacuum, the Miele SEB236 Electro Premium Power Head is where to look. This power nozzle also offers a 360-degree swiveling neck and a convenient five step height adjustment for use when cleaning varying carpet and rug types. Unlike the SEB 228, the Miele SEB 236 power nozzle comes with a headlight to help illuminate the harder to see areas of your home to ensure everything is cleaned and vacuumed to your liking. Other features include a bumper strip, automatic shut-off feature, 4 soft, non-marring wheels.
This is the power nozzle you want to clean deep or thick carpet and it moves much easier than the low cost power nozzle.
Product Overview
When it comes to true whole-home cleaning with the advange of HEPA Filtration in a 100% sealed system, the Miele Complete C3 Marin PowerLineCanister Vacuum is unbeatable. Recently named a "Best Buy" from a top consumer reporting agency, it received "Excellent" ratings for removing embedded dirt and pet hir from carpets, efficient bare floor cleaning, and strong airflow for attached tools.
Also earning "Excellent" for emissions, the Marin boasts 99.9% efficiency at capturing and retaining allergy-triggering particultes as small as 0.3 microns in size.
Along with Miele's standard canister vacuum features, it also offers advanced features like an Automatic mode, filterbag replacement indicator, and on/off brushroll control located on the ergonomic handle.
2 Tools for Impressive Floor Cleaning
The Miele Complete C3 Marin comes with a powerful, electric-powered Electro Premium Brush that dips deep into carpets. With 5 height adjustments not only deep-pile carpeting, but oriental rugs, and smaller scatter rugs can be cleaned easily. A swivel neck makes it ultra-maneuverable, its bumper strip provides furniture protection, and an LED headlight offers maximum visibility.
If you love your hardwood floors right along with your deep-pile carpeting, the Marin comes equpiped with, the Parquet Twister Floor Tool. Featuring natural soft bristles plus 180° joint rotation, this popular tool glides effortlessly over bare floors picking up even fine dust and allowing you to swivel neatly around chair and table legs.
Advanced Air Filtration System
Miele's revolutionary AirClean 3D Efficiency Dust Bag, is composed of 9 layers of electrostatically charged material that traps micro-sized debris in this completely sealed vacuum chamber. The self-closing bag hygienically seals itself when the vacucum chamber is opened for bag replacement or filter checks.
The HEPA AirClean Filter makes the Marin canister vacuum particularly good for allergy-sufferers since it traps 99.99% of particles and allergens down to 0.3 microns. This exhaust filter also contains a layer of activated charcoal to help neutralize odors.
A Pre-motor Filter is also included in this filtration system to protect the motor from fine dust and dirt, prolonging its life and costing you less in potential repairs.
Exceptional Extras
Automatic Setting: In automatic mode, this vacuum easily transitions from hardwood flooring to deep-pile carpet using a sensor to alternate between 6 different suction modes.
Six Suction Controls: Select 1 of 6 suction settings depending on the type of flooring you're cleaning. There are +/- foot control buttons, so you can change the suction power with a tap of your toe for easy-breezy multi-surface cleaning.
Deluxe Comfort Handle with Electrobrush Controls: A deluxe comfort handle is easy to grip and maneuver, and is also home to the on/off switch for fingertip control of your electrobrush.
Extended Bumper Wrap: Ensures that furniture is well protected from those inevitable bumps during cleaning.
Parking System with Auto Shutoff: Sometimes you just need a break, and no hassles, please. Miele's Complete C3 Marin features convenient parking places on the rear & side of the vacuum, with an automatic motor shut off mechanism when parked. It couldn't be easier.
Ultra Quiet Operation with Gentle-Start Motor: Miele's motor ramps up slowly to your selected power level which protects it from overload. In addition, it's specially insulated so it won't wake the baby.
Good Housekeeping Seal
After being tested for integrity and performance by the scientists, engineers, and technicians at the Good Housekeeping Institute, this Miele canister vacuum has earned the Good Housekeeping Seal. When you see the seal you'll know the product has a Good Housekeeping 2-year limited warranty covering repairs and replacements of defective parts.
Additional Features
Onboard Accessories: Use (and easily store) a crevice tool, upholstery tool, and dusting brush to clean couch cushions, upholstery, mattresses, crevices, and other sensitive items around your home.
Filter Replacement Indicator: This tells you when your filter needs to be changed.
Telescopic Wand: Increase your reach with this adjustable wand for hard-to-reach places.
Foot Switch Controls: One-touch foot controls for power and the 6-setting suction levels. You can also tap a foot control to rewind the cable after cleaning.
Skeleton Construction: The Marin weighs just 11 pounds, so you can easily move it from room to room or upstairs.
More Ergonomic Parts: With easier access to the cable and accessory compartment, plus a more ergonomic handle, the Marin features new advancements in its intuitive design.
More benefits for the Miele Marin C3
Lightweight skeleton construction
Impressive 33-foot operating radius
Automatic motor setting
Long electrical cord with one-touch automatic rewind
Automatic standby switch in rear park
Exclusive 12-stage AirClean Sealed™ System
Filter replacement indicator
Electric, telescopic, stainless steel wand
Deluxe Comfort Grip handle with electrobrush control
Three fully integrated accessories: dusting brush, upholstery tool, crevice nozzle